First Impressions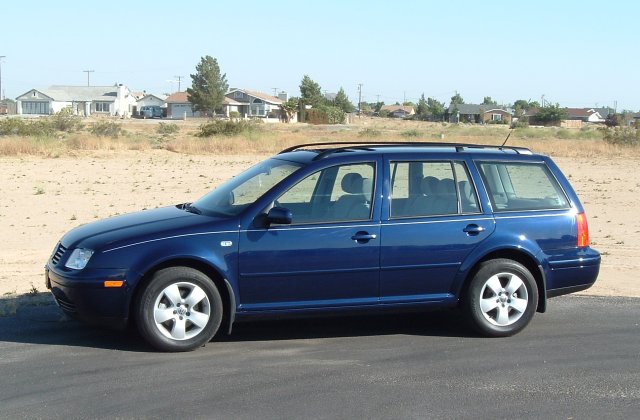 "This car wants to drive, and the Monsoon sound system is all around me with great fidelity."

That thought is not what sold me on the car, but it did make me happy I had flown to Denver to purchase the 2003 Volkswagen Jetta Wagon 1.9L TDI sight unseen. This is the first car I've enjoyed commuting in. Fifty miles per gallon fuel economy helps, too. My initial drive was just short of 900 miles, and I forgot about the gas gauge after several hours of barely moving the fuel tank dial. I added fuel once driving from Denver to Los Angeles. I was astounded at how relaxed and comfortable this car made me feel on the road.
Lots of details are below about the Jetta model, but if you already know you want a Jetta, here's the short scoop on this one: It's a wagon. Lots of room, assembled in Germany, not Mexico, and it still handles like magic. GLS trim line (interior courtesy lights, sunroof, central armrest/storage). TDI engine. Blue outside. Gray velour inside. I added a matching gray custom dash-mat to cover and protect, and it also keeps the sun off the black top of the dash. If you haven't, feel how hot this gets otherwise in any car!
I had the windows tinted to keep out the bright sun and heat, and this comes with a life-time warranty. Most of the Jettas have "tinted glass" from the factory. Mine even has this fact etched into the manufacturing logo in the lower corner of the windows. I think they mean along the top of the front window because the rest just looks normal. In hotter climates, you want tinting, and even in cooler climates it cuts the glare and saves eye strain. Lastly, mine has alloy wheels and manual transmission. It has a few light scuffs and scratches from kids and normal use but nothing into the colored paint. I can send more digital pictures of anything you're particularly interested in.
You want the manual transmission if you want the best gas mileage out of a Jetta. It's not 39, 43, or 46. I really get 50 mpg at 75 mph cruise. Many times. See the graph below. Air conditioning drops the mileage one mpg. Traversing the Rocky Mountains didn't affect the mileage at all, and even climbing the hills and 14,000' passes, I never had to downshift out of 5th gear.
The "Indigo Blue" sometimes looks dark. Other times it picks up a violet hue. The body length door guard bumper is matching blue, and there's a white pin strip down the top of both sides. The GLS trim line gives the sunroof. With an overhead control knob, it can pop open just the back for venting, or slide the entire tinted glass aft in 2 or 3 increments.
The 2003 TDI meets California emissions (has the sticker in the engine compartment), so no emissions testing. Whip antenna is "up high, back, and good looking!" Full-size spare, and tools. Halogen headlights. Side quarter-panel running lights that work with the turn signals, too. Anti-theft wheel locks. 12-volt outlets on the lower dash-board and cargo area.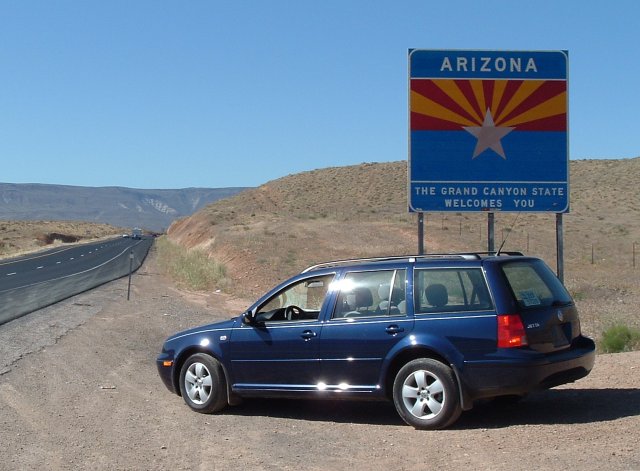 From the dealer window sticker..
PERFORMANCE/HANDLING
1.9L, 90 hp, 4 cyl, Turbo Direct Injection diesel engine. Front wheel drive. Power rack & pinion steering. Independent strut front suspension. Track correcting independent torsion beam rear suspension. I currently have Michelin all-season tires. What have you driven in the past? If you haven't driven a European designed road car, you're in for a pleasant surprise.
SAFETY/DURABILITY
ABS. Daytime running lights. Front and side impact for driver & front passenger. Side Curtain Protection air bags for driver, front and rear passengers. Height adjustable front safety belts. Adjustable (height and tilt) front head restraints. Rear 3-point belt and head restraints in all three rear seats. Child safety rear door locks. Lower anchors and Tethers for Children. Side structural impact beams. Front and rear disk brakes.
COMFORT/CONVENIENCE
A/C, CFC-free with pollen and dust filter. Cruise control. Power windows with pinch protection. Folding key with remote keyless fob. Power/heatable outside mirrors. Height adjustable, telescoping steering wheel. Center armrest, storage compartment. Adjustable intermittent front wipers. Rear wiper/washer system with intermittent. Front and rear carpeted floor mats. Front VW brand rubber floor mats. Height and fore/aft adjustable front seats. Split folding rear seat. Dual front visor vanity mirrors. Rear reading lights. Remote release for fuel filler cap and aft hatch. Power central locking system. Roof rails. Cargo area cover.
SPECIAL FEATURES
15" allow wheels - looks cool and you can inspect brake pads. Power sunroof with title, slide and preselect. In-dash CD/cassette player. Anti-theft alarm system for vehicle and radio. Immobilizer III theft deterrent system.
OPTIONS
Indigo Blue gloss exterior, Gray Velour interior with highlighting checkerboard pattern on seats. Monsoon sound system with speakers around. Electronic Stabilization Program. Cold weather package (heatable front seats and heatable widshield washer nozzles). 5-speed overdrive transmission.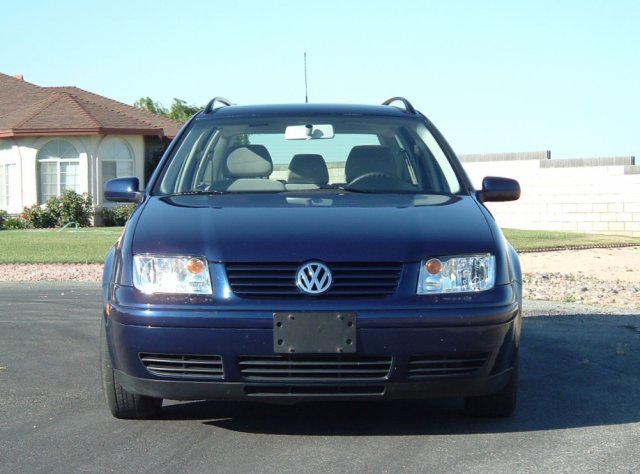 Excerpts from the web (Google The text to find original reviews)...
"Where this vehicle shines is the overall power plant. While the vehicle only specs out at 90hp, don't let that number fool you. The Jetta TDI produces 155ft-lbs of torque (remember this saying, "We talk horsepower, we drive torque"). In the end, compared to the 2.0L gas engine at 122ft-lbs, the TDI is going to accelerate you to highway speeds much quicker, at lower RPMs. It has loads of "go" when you punch the accelerator at any speed. It will climb most hills without downshifting. The vehicle produces its power at a much lower RPM, thus, at highway speeds, the vehicle will do 120kph at just under 2000RPM — quietly. What this means, you are getting the performance of a small V6, while attaining 50mpg fuel economy — no kidding."
"Nothing beats a German car for comfort and look. I wish the seats were a little lower, but overall it's nice to sit in, and it looks good. I recently had the chance to look at the dash of a BMW 3 series, and well, my dash looks very similar, and feels nicer. If you want style and don't want a chincy feel, you have to go with a VW or an Audi. BMW is starting to come around, and they have the right idea with the Mini, but everything still feels plastic. Overall, it's a very sleek and stylish looking car."
"Handling. This car can cut corners like you wouldn't believe. I've driven Golf's, A4's, Passat's, A6's, 3 series, Mini's, and well, the only ones that compare to it is the Mini and the Golf. The Mini is a toss and turn sort of a ride, and the Golf is similar. The Jetta, however, is a much more refined ride, and reminds me of the Audi A6 more than anything. I understand that we're talking a $20,000 price difference here, but I think as far as suspension and steering and road handling goes, VW hit the nail on the head with this one."
"Finally some more comments on another potential green factor and resale. Running Biodiesel fuel in this vehicle unmixed, or mixed with regular diesel at 10, 20, 50% or higher can further reduce your emissions. Biodiesel is manufactured from either Soy Beans or Canola, or home brewed from waste deep fryer oils. It is a much cleaner burning fuel — virtually eliminating harmful emissions, can provide better lubricity overall and is produced in North America (ie. reducing reliance on foreign sources of fuel). It CAN be run in a TDI and there is essentially no risk to your vehicle's engine — because of the relative newness of this fuel alternative, VW has not provided their blessing in North America as of Jan 2003 (they have in Europe due to tighter fuel controls). Further reading at
http://www.biodieselnow.org."
"I strongly considered the two superior vehicles in fuel economy — the new Honda Civic Hybrid and Toyota Hybrids. In the end, I chose the #3 rated TDI because I KNOW that when I go to sell this vehicle in say 5 years that there will be a resale market for it — in fact, the resale for a used TDI is typically much higher than for the gas vehicles as the engine life is typically much much higher. The Gas/Electric hybrids WILL eventually need a new battery system in 5-7 years (or thereabouts) at $5000 — and they simply do not perform like the TDI."
Additional Resources
Oil Service
for the TDI Engine. I found the gallon bottles of Shell Rotella synthetic oil for about $15 at Walmart.
Engine Maintenance
for the TDI Engine.
TDIClub
is a website dedicated to the VW TDI (Turbo Direct Injection Diesel) engine
Class I Tow Hitch
for 2003+ Volkwagen Jetta Wagons.
---
Created by admin. Last Modification: Sunday 19 of December, 2010 09:57:49 CST by admin.