TMRIndex
(Index for all Test Methodology Reference pages, most still need to be populated.)
TestSites
(Geographic locations, each with special character and capabilities)
---
Test Activities
In order to conduct a test three items must be addressed
There must be a item to test
There must be a test resource that is used to conduct the test
And there must be procedures or a process to implement the test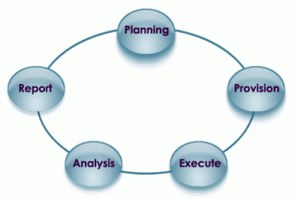 This Test Management Resource is structured to provide information and guidance in each of these three main areas. This section focuses on the test procedures ecessary to accomplish a test and is not system/facility specific. The initial entry points are related to the major steps involved with testing: Planning, Provisioning, Executing, Analysis, Reporting.
The planning page provides links to initial planning information or detailed planning nformation as required.
---
Test Methods
---
Software Tools
---
Bibliography / Additional Reading
Interactive and Background Test Point Collection - Not written yet, will include concepts coming out of the SBIR SIS research.
Modeling and Simulation Creates Test Points - An opinion on the "Modeling and Simulation Dragon" which is starting to levy test activities instead of provide a lower cost alternative. November 2005.
Test & Evaluation Infrastructure State of Affairs - Secretary of Defense "State of the Union" discussion of T&E by Philip E. Coyle, June 2000. This study precipitated DETEC #1. Slide presentation (600 kb) is available in the Wikilint Test & Evaluation File Gallery.
---
Created by admin. Last Modification: Thursday 26 of March, 2009 18:56:04 CDT by brian.